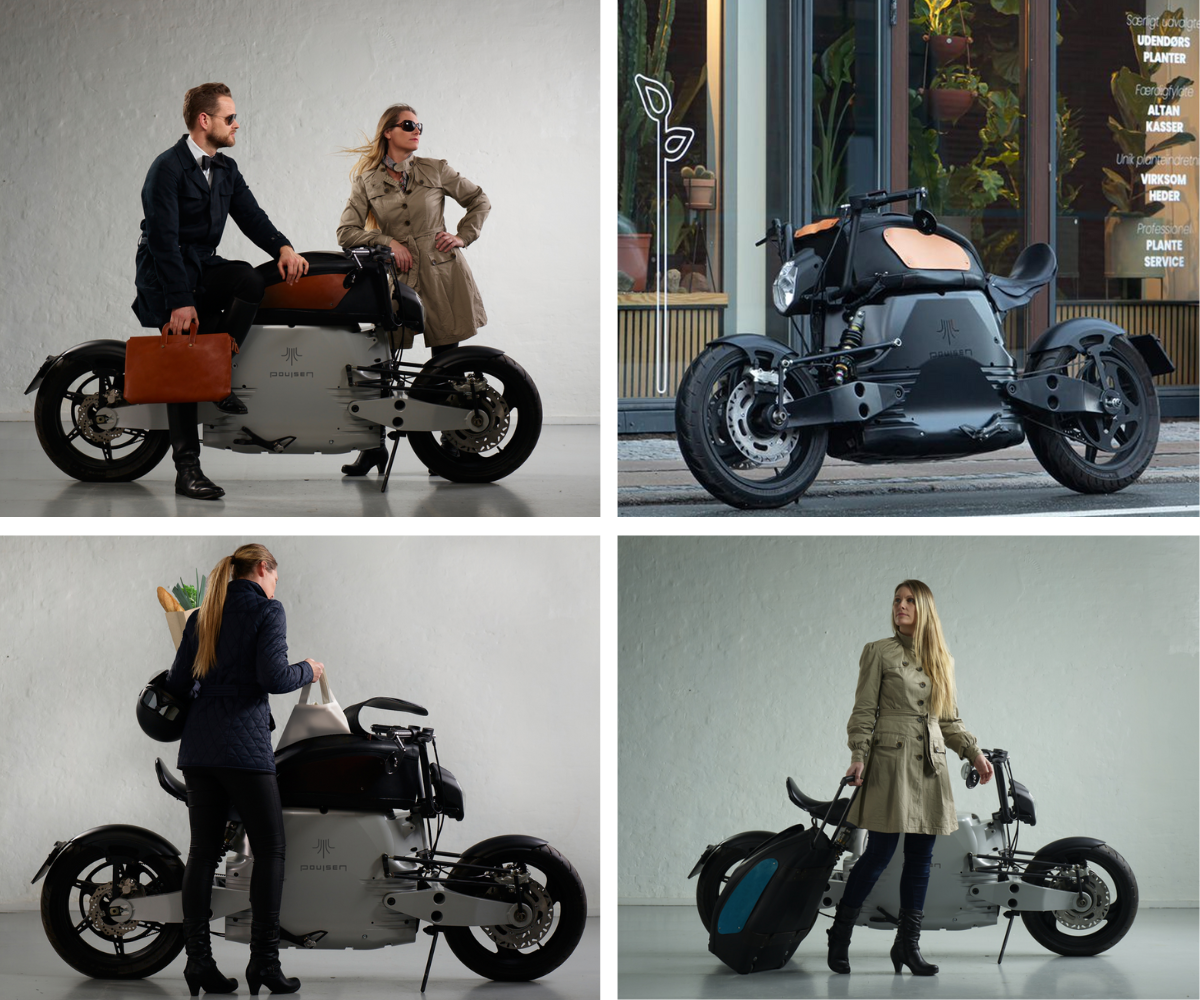 WE BRING YOUR FREEDOM BACK
Imagine a world where you ride to work and have a new motorcycle everyday. That is actually, what you can do with Poulsen. We are not the same Monday morning as we are Friday night. That's why we have created a motorcycle that not only get you from A to B fast and easily, but also gives you the freedom to change its functions and looks.
With a single click, you can switch to a new bag for your daily tasks. As we say "We bring the freedom back"
Poulsen Motors has developed an electric motorcycle with a less traditional frame design. Each part is designed so simply that it can be used in several places such as front or back, without having to take into account whether it is on the right or left side. That also means you have fewer production tools, – costs. A major requirement for this concept is that it must be practical. The mission is not complete if it cannot help you in your everyday life; like shopping, package delivery, or longer trips. Running electric i not enough, production must be sustainable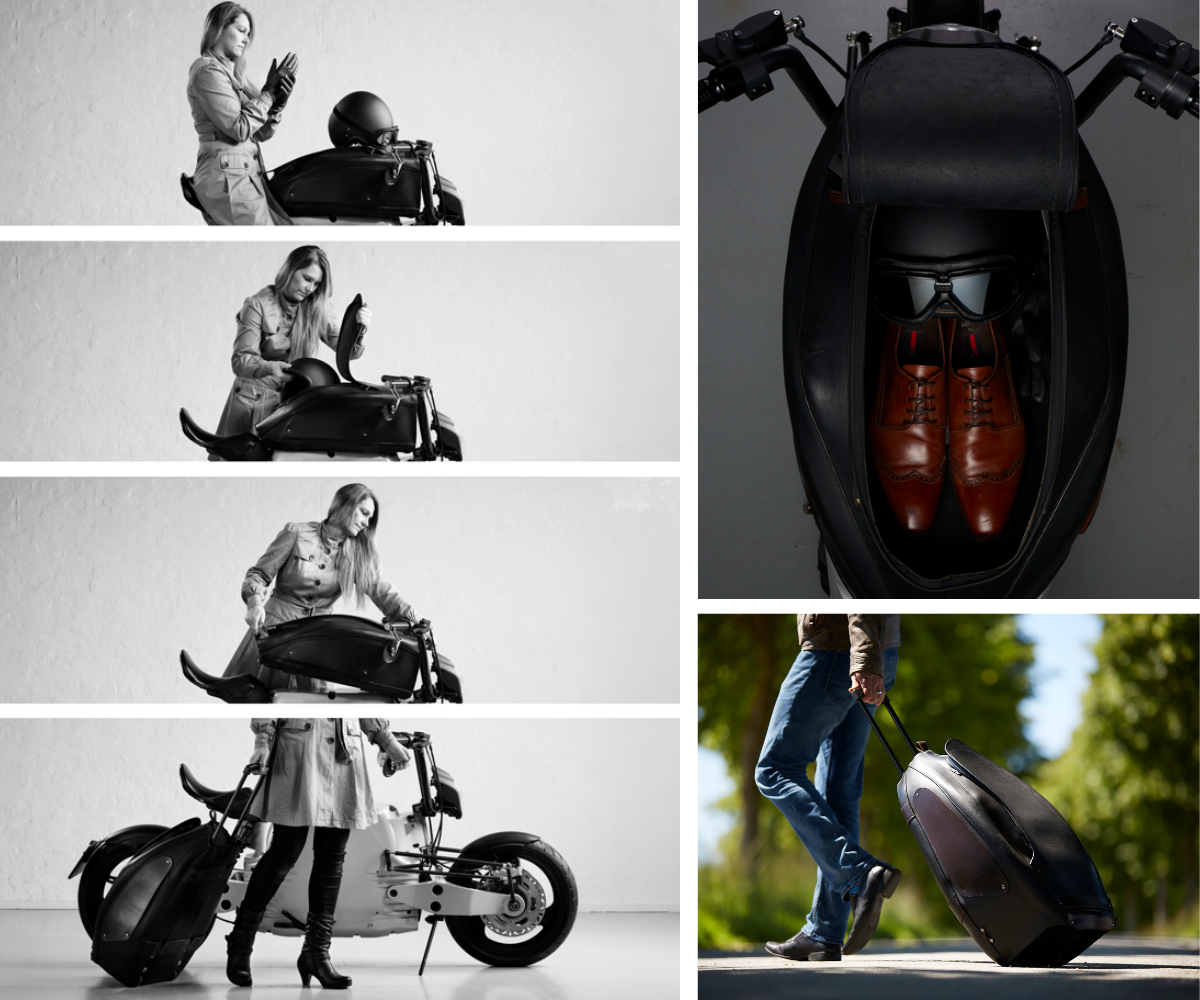 With "new" technology we want to create a new solution for motorcycle. The design must stand out but at the same time have a purpose. In order to make it profitably it needs new solution for the production lines.
It therefore does not need a traditional assembly plant, as no special tools are needed. We skip the "gigafactory" and let our sub-suppliers send the part out to the dealers where they are assembled locally with the customer. Our motorcycle can be assembled anytime and anywhere.
The suitcase or trolley is designed for the bike, but it is a lifestyle product that can be bought without the bike. There will be different models, sizes, materials and colors which can be attached to the motorcycle at any time. With this unique opportunity, the user gets many benefits that you have never seen before on a motorcycle. If you have several bags (the same applies to the seat) you have i for every purpose. This makes it easy to customize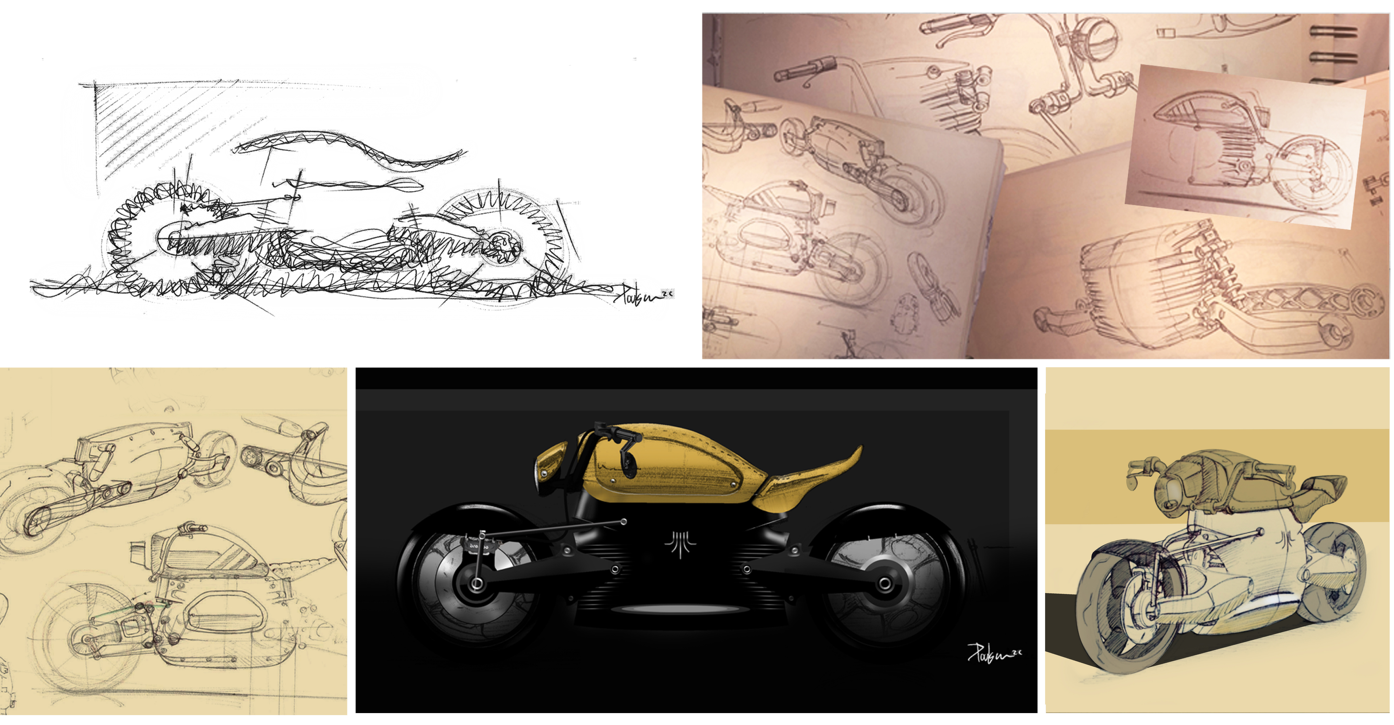 Wheel base: 1580 mm
Seat Height: 740 mm
Weight: 200 kg
Range: 300 km
Top Speed: 200 km/h
Fast Charging CCS: 30 min
Maximal Effect: 35kW
Battery: Cobalt free
Practical: Integrated module suitcase
Poulsen Motors is a startup and are therefore looking for investors and partners who can take a part of this adventure.
We are in touch with on the biggest EV engineering houses in Scandinavia who have been involved in development of electric supercar, speed boat and motorcycles. If you are interested as an investor or a partner to be a part of this innovative motorcycle do not hesitate to contact us.
If you would to buy a Poulsen Motorcycle, please sign up for a newsletter and say that you are interested.
Poulsen Motors +45 51 34 21 30 Torben@poulsenmotors.com